Coming up in a small audio market and oriented towards exports, we learned that the only way to succeed in hifi equipment manufacturing business is to support local community and cooperate with similarly minded individuals and companies, both locally and internationally.
Serbs are strong individualists, often working in many different directions, and thus, we are proud of our long-standing cooperation with the individuals and companies listed below, and we hope that it will continue in the future and bring to life many more quality audio products.
If you find interesting what our partners/friends and ourselves are doing, and if you have some audio project/idea that requires consulting/expertise/manufacturing, please feel free to contact us.
Pointe
- tube amplifiers and power conditioners
Spiritus movens
of Pointe brand, Mr Tibor Šindrić started to design and manufacture tube amplifiers back in the beginning of '90. His first designs, based on exact engineering, good selection of internal components, reasonable pricing and good sound became very popular in ex-YU and Hungary. One of the first hifi manufacturers in Serbia who realized the importance of the "clean" electricity for hifi equipment, he started to design and manufacture quality Power conditioners and cables, and continue to present days.
Today, Pointe tube amplifiers and power conditioners and accessories are probably one of the best kept secrets of Serbian audio.
We are proud to be friend with Mr Šindrić and his team.
Please find more info about fine Pointe products
here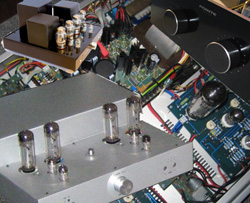 Kedar
- fine furniture
Furniture manufacture equipped with the HAAS TM-3PHE CNC Vertical Machining center? Surely, something is wrong here?
No, everything is in perfect order. The owner and founder of Kedar furniture, Mr Branislav Hriešik, besides being a perfectionist in his furniture design and manufacturing, is also an avid music lover and audiophile, cooperating with some of the best Serbian audio brands in manufacturing of aluminium parts. Employing state of the art HAAS TM-3PHE CNC machine in the manufacturing process provides truly excellent results.
To find more about Kedar fine furniture and other offered services please click
here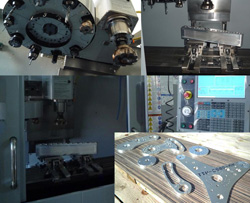 N.N. Acoustics
- speakers, absorbers, diffusers, room acoustics, crossover design and production, driver repairs, etc.
Known locally and internationally by their unique and high quality speaker designs, custom made absorbers and diffusers, many successful room and studio acoustic design projects, N.N. Acoustics is our main supplier of MDF and plywood CNC machined turntables parts.
To find more about N.N. Acoustics products and services please click
here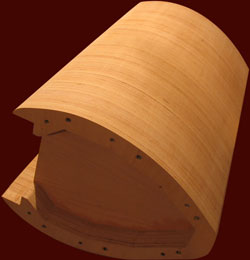 Mr Z.P.
- mysterious man hiding behind Leonardo nickname
Presented on the local audio/hifi forums, and dwelling somewhere in town of Zemun (in reality), Mr Zoran Petković is responsible for numerous successfully finished commercial and DIY audio projects.
When somebody needs high quality case/housing or some other aluminum/brass/stainless steel/acrylic parts for his/their audio project
Leonardo
is the first person to refer to.

Solaja Audio
Well known locally and internationally for thier high-end tube amplifiers and pre-amplifiers design, we engage Mr Dragan Šolaja, owner and founder of Solaja Audio and a good friend, for different audio projects and local audio events.
More info about fine Solaja Audio products you can find
here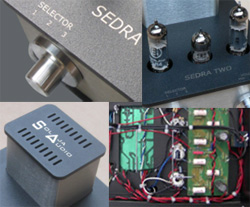 Hi-Files
- Serbian hi-fi magazine
Unique Serbian hi-fi magazine devoted to testing and reviewing of quality audio/video/TV equipment of all kinds and brands, which is at the same time extremely supportive of local hi-fi manufacturers.
Proud member of EISA and founder and organizer of annual Serbian audio show, Hi-Files Show.